Robinson, Larry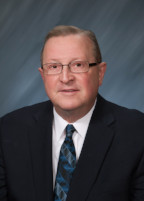 Awarded in 2006
Robinson graduated from Valley City State University in 1971 with a Bachelor of Science degree in Education. He is currently employed as the Director for University Advancement at VCSU. Prior to that, Larry was the Student Center Director and Director of Student Activities from 1976-1996.
John has been very active in civic affairs. He has served as president of the Valley City Community Theatre, musical director of the VCCT, charter member and past president of the Bridges Art Council, director of the Epworth UMC Choir, director of the "Bon Voyage" EBC Fraternity Hit Parade, coordinator of the Barnes County Music Festival, and producer and director of the "We're in the Christmas Mood" show sponsored by the EBC Fraternity Alumni. John is currently a member of the VCSU Alumni Association Board of Directors and the VCSU Music Alumni Advisory Committee. While a student at VCSU, John was awarded the Viking Pilot Award for two years and also served as VCSU Student Senate Vice President and President. He has also been named to "Who's Who Among American Teachers".
Larry and his wife Mary Lee (VCSU 1971) live in Valley City and have two sons Jamie and Travis.