VCSU License Plates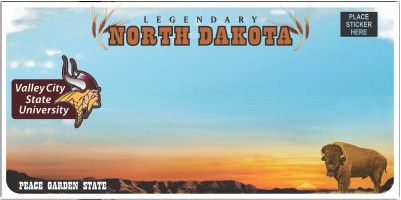 North Dakota residents and VCSU Viking fans can now order personal Valley City State University license plates for their vehicles.
The VCSU Foundation and the North Dakota Department of Transportation are pleased to provide an opportunity to show your Valley City State University Viking Pride every day as you drive your vehicle around the state and across the country. By supporting this 'pride promotion', you also directly support Valley City State University and its V-500 Scholarship Programs.
Facts about the program:
• To purchase the VCSU plate, the cost is $25. The State will return $15 of this fee to the University. After the initial purchase, you will be assessed an annual VCSU license plate fee of $25, plus your regular tag renewal fees on your normal anniversary registration statement.
• Available to all North Dakota vehicles. Anyone who has a registered North Dakota vehicle can secure a plate. You do not need to be a VCSU alumnus or student.
• There will be 5 alpha/numeric characters on the VCSU plate, numbered from 36000-36999. You can secure a vanity plate for an additional $25 fee. Click here to check availability of letter/numerical license plate characters.
• How do I order a VCSU license plate?
Contact ND DOT at (701) 328-2725
Go online at http://www.dot.nd.gov/ and click on the "Forms" button on the left side.
Scroll down to form SFN54397 "Application for Organization Plate".