Bass, Dave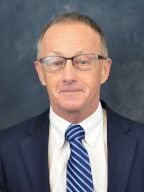 Awarded in 2012
Dave is a 1977 graduate of VCSU. He received a Bachelor of Science Degree majoring in Physical Education and a minor in English Education. Dave completed his Masters in Education degree in 1981 from the University of North Dakota. Dave's professional career includes teaching three years for Leeds Public Schools, two years at Valley City Public Schools and then serving as a faculty member at Valley City State University for the past 31 years. Dave's commitment to VCSU has been without question. He serves on the VCSU Booster Board, VCSU Alumni Board of Directors, VCSU Foundation Board which includes serving as the secretary for the past two years. Dave was a key player in the 2009-10 "On Track to Bring Back Track & Cross Country" campaign. He not only helped raise dollars to bring Track & Cross Country back as a sport to VCSU but also recruited students for the program.
When Dave was asked "What does being a graduate of VCSU mean to you?" he responded "Being a graduate of VCSU and a member of the teaching profession means I have the opportunity to represent my alma mater everyday by trying to hold up the proud history and tradition of VCSU."
Dave's special memory of his time at VCSU as an undergraduate student is not one event but a book of memories about the wonderful teachers who were and continue to be lifelong friends and mentors.