Berger, George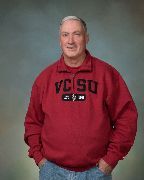 Awarded in 2019
Berger has given of his time and talent to support various Valley City State University activities and activities in our community. He has done so with the greatest of humility.
Berger graduated in 1975 with a Bachelor of Science in education degree majoring in Physical and History Education. While attending VCSU, Berger was a member of the Tau Sigs and served as the president of the Letterman's Club. Berger is owner of Baldhill Creek Adventures located in Binford, ND.
Berger served on the VCSU Booster Board for many years, stepping down in 2015. He still continues to support the annual Booster Fish Fry. This event contributes thousands of dollars to athletic scholarships each year. Berger fishes year around for this event. He has done so without any expectation of compensation of any kind. Not only has he donated the fish, but he has also been there to help prepare it and cook it during the night.
He has assisted with the VCSU Scholarship Auction, donating and acquiring items for the live and silent auctions. This past year he even helped an out-of-state bidder purchase items from the live auction.
In addition, Berger has been a tireless promoter of VCSU. He and his family have established a scholarship in memory of his parents. He is also a regular at VCSU events and activities.
Berger has been recognized with the North Dakota Forest Service Conservation Achievement Award and the Soil Conservation Award. He was recognized for planting 33 miles of trees and his contribution to forestry activities.
He is also involved in the Injured Military Wildlife Project of North Dakota. This group of North Dakota citizens provide hunting and fishing opportunities to military personnel who have been injured in the line of duty.
Berger also sponsors and volunteers with the Outdoor Adventure Foundation, a foundation that helps make outdoor dreams come true for children and young adults with life-threatening illnesses as well as for combat-disabled veterans who have lost a limb or are in a wheelchair.
Berger has clearly "Made a Difference" at VCSU and in our community.