Christiansen, Tres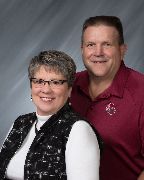 Awarded in 2019
Todd and Tres exemplify the very best of active and engaged alumni at Valley City State University.
The Christiansens are both graduates of Valley City State University. Tres received her Bachelor of Science in Education degree in 1980 with a major in Physical Education. Todd earned his Bachelor of Science in Education degree in 1982, also majoring in Physical Education.
Tres is currently the credit administrative assistant with Cornerstone Bank in Fargo, N.D. Prior to working at Cornerstone Bank, Tres worked for many years at Wells Fargo Bank in Valley City, holding positions of teller, customer service representative, personal banker and customer service manager.
Todd is the owner of the Window Man. He and his crew service the greater Barnes County area, cleaning both residential and business windows. Prior to taking over the ownership of the Window Man, Todd managed at the Valley City Country Club for 8 years and was the sales/business manager at Stoudt Ross Ford for 16 years.
Both Todd and Tres have been tremendous ambassadors for VCSU. Their ongoing commitment to VCSU is without question. Todd has served on the V-500, Alumni and Booster boards. Tres has served on the Booster and Foundation boards, including serving as the president of the VCSU Foundation Board. Both have served on the auction committee and solicited items for the auctions; Todd served as the emcee for the event.
The Christiansens were named to the Board of Regents in 2006 and VCSU Fans of the Year in 2008.
When asked what does being a graduate of VCSU mean to you, Tres replied, "I feel like part of the large family. When you tell someone you graduated from VCSU, they usually have a family member or know someone who has attended at some time. No matter what years people attended — stores can be shared."
Todd's special memory of his time at VCSU is this: "Our 1981 football team qualified for the national playoffs. We are the only team to win a playoff game, beating McMurray State 16-9 in Abilene, Texas.