Fairfield, Rhonda Hansen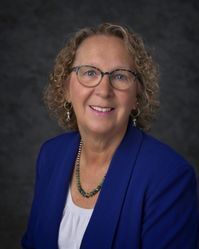 Rhonda has been part of our VCSU family for 42 years! She was hired in August of 1980 as Secretary for the Division of Education & Psychology. After 18 years she took the administrative assistant position with the Title III grant and in 2000 moved to the Vice President of Academic Affairs office. Then in January 2008, Rhonda moved to the VCSU Presidents Office where she was the Executive Assistant until her retirement in 2021.
In 1994 Rhonda became a certified facilitator for the Kathryn Center Ropes Course. Rhonda was part of offering ropes course teambuilding to our VCSU freshmen for 25 consecutive years. She also served as a Learning to Live (L2L) Instructor and offered training to the L2L student mentors annually.
The Student Senate named Rhonda, Student Advocate of the Year in 2014. She has been a member of the V-500 Board of Directors helping raise scholarship dollars for academic scholarships and coordinating the silent auction for the annual VCSU Scholarship auction.
When asking Rhonda "What does being a graduate of VCSU mean to you? she replied, "Completing my degree was a 29 year process that I will never regret. Learning in the classroom and on the job were invaluable to becoming the person I am today."
Her special memory of her time at VCSU includes being part of the 2009 graduating class with her son, Matthew, and being able to present him with his diploma that same day.
Rhonda and her husband, Dan also a graduate of VCSU, live on a farm near Valley City and have three grown children along with one granddaughter.
Rhonda has always been willing to step up and help out in many activities on and off campus. Our campus motto has been "We All Row" and Rhonda has always been there with her Oar and ready to row.