Hill, John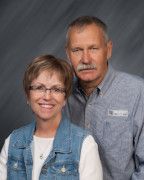 Awarded in 2017
John and Diane Hill are the 14th recipients of the Alumni Service Award.
The Hills are 1973 graduates of VCSU. John received his Bachelor of Science in Education degree in Physical Education & Industrial Arts, and Diane received her Bachelor of Science in Education degree in Business Education.
After a short tenure in South Dakota, John returned to Valley City and became a partner in his father's oil business. Years later, John became owner/manager of the business. From there, the Hills purchased
John's I-94 Amoco, a business they owned and operated for several years, selling to Petro Serve a few years ago.
Diane worked for Valley City State University from 1978–2012 at the Student Center Information desk. It was here that Diane became not only a fixture on the VCSU campus, but also a mentor and a friend of the students. She was loved by all. She became the face of the Student Center. Today, in our travels, we are often asked by alumni about Diane.
The Hills have always been loyal supporters of VCSU. They have consistently given of their time, talent and treasure. They have served on the V-500 and Booster Boards raising scholarship dollars for our students. They have worked with the Golf Scramble and the Spring Scholarship Auction. John has donated pounds and pounds of fresh fish to our Viking Fish Fry held each winter. Their strong financial support of VCSU is without question. John and Diane were recognized as Fans of the Year by the VCSU by the Booster Board in 1999.
When asked what does being graduates of VCSU mean to you they replied, "We are both very proud of graduating from VCSU and have benefited from the education we received. VCSU is a quality institution that knows students as well as alumni."