Noeske, Joan Lundholm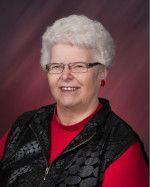 Awarded in 2010
The Alumni Service Award was adopted by the VCSU Alumni Association to recognize alumni or university friends who have attained exceptional achievement in their careers and have made significant contributions to the university through dedicated service, promotion, financial support or other efforts. This year's Alumni Service Award recipient is Joan (Lundholm) Noeske.
Joan (Lundholm) Noeske is a 1962 graduate of VCSU. She received a B.S. Degree with a major in Business Education and a minor in English Education. Joan's professional career includes over 42 years of service to VCSU. Joan's commitment to VCSU has been without question. She has served on a long list of alumni and university committees including being the Treasurer to the Alumni Board.
Joan is someone who believes in VCSU. She has dedicated herself to VCSU and has made significate contributions to VCSU via service and financial support. Kim Hesch, VCSU Assistant Director for Advancement said, "Since retirement Joan has volunteered countless hours to assist in the Foundation and Alumni office from locating lost alumni, updating records, and helping the staff catch up on other alumni related activiites."
Joan has represented VCSU with distinction and exemplifies the very best of what a VCSU Alum is all about.
Ann Thoreson, VCSU Director of Business & Financial Services said, "I will be forever grateful for Joan's kindness and teachings!"