Rausch, Dave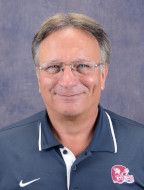 Awarded in 2008
David (Rouper) Rausch is a 1978 graduate of VCSU. He has a B.A. Degree with a major in Business Administration and a minor in Economics. Roupers professional career includes taking a job with Grotberg Electric, Inc. in Valley City as their office manager/accountant after graduation and working there for 19 years. Rouper opened up his own branch of Raymond James Financial Services Incorporated in 1997. He became a Certified Financial Planner (CFP) in 2001.
Rouper has been involved with the Vikings for over 30 years as a player, supporter, and coach. The West Fargo native came to VCSU in the fall of 1974. Rouper earned All- American honors as a linebacker for the Vikings in 1976 and 1977. During the 1977, season he helped lead VCSU to an undefeated 9-0 season. During the 1976 season, Rouper helped the Vikings to an 8-2 record and a trip to the NAIA playoffs. That same year, he logged 122 assisted tackles, which still stands as the top single season performance all time. In 1977, he logged 108, placing him currently in fourth place for assisted tackles. Rouper's 163 total tackles in 1976 places him second all-time for total season tackles while his 147 in 1977 places him fourth. For his career, Rouper is third all-time with 310 total tackles and first all time with 230 assisted tackles. In 1986, he began roaming the sidelines for the Vikings coaching linebackers. This is his 22nd season with the Viking coaching staff.
Not only does he volunteer his time to coach, but he has been the major driving force behind starting the 12 Man Club for our football alumni. Under his leadership the 12 Man Club has raised over $70,000 in the last three years for scholarships.
Rouper has served on both the VCSU booster board and on the Foundation Board. This past year his football number was retired for his accomplishments on and off the field. Rouper became a member of the Viking Hall of Fame in 1988.
Coach McCulloch summed it up when he said, "If you look up 'Viking Pride,' Rouper's name would appear by it."