Robinson, Larry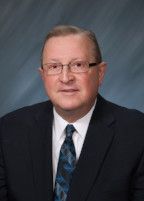 Awarded in 2006
Robinson graduated from Valley City State University in 1971 with a Bachelor of Science degree in Education. He is currently employed as the Director for University Advancement at VCSU. Prior to that, Larry was the Student Center Director and Director of Student Activities from 1976-1996.
On the State level, he has served as District 24 Senator for the past 9 years. Senator Robinson has served on the Senate Appropriations Committee since 1991. Larry is very well respected by both parties in Bismarck. In the last legislative year, Larry was instrumental in getting a treatment center that treats meth addicts as a jail alternative. This was a giant first step for the State of North Dakota. Because of Larry's efforts, the center located in Fargo, is named the Robinson Recovery Center.
Larry has received numerous honors and awards for his dedicated service to the campus of VCSU, the community and the state.
When asked to share a special memory of your time at VCSU, Larry said, "Without a doubt, my greatest memory is meeting my wife, Mary Lee, here at VCSU. We met when we were both on the staff of the Viking News, working for Mary Hagen Canine! Following graduation in 1971, we were married. I have many other fond memories of my years here at VCSU. This university has been blessed by so many great students and a long list of outstanding faculty and staff. It is those students and those faculty and staff that have made VCSU such a special place. It has been an honor being a part of Valley City State University."
Larry and his wife Mary Lee (VCSU 1971) live in Valley City and have two sons Jamie and Travis.