Schultz, Janet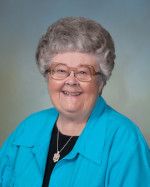 Awarded in 2000
Janet Schultz graduated from Valley City State University in 1966. She taught at Turtle Lake High School from 1966-68, at Carrington High School from 1969-71, and at Goodrich High School from 1972-76. Janet began working for the Sisters of Mary of the Presentation at Maryvale Convent in 1976 and remains in that position at the present time.
Janet is a member of St. Catherine Church where she served as Youth Minister and is a member of the REACH Club.
Janet is a charter member of the Second Crossing Toastmasters Club and has been active in that organization since 1982. She served as governor of District 20 Toastmasters International and was awarded the Distinguished Toastmaster Recognition in 1990 and the Advance Toastmaster Gold Recognition in 1999. In addition, Janet has won numerous speech, table topics and evaluation contests on the club, division and district levels since 1982.
She is a member of the Barnes County Historical Society and the Buffalo Historical Society and an eager volunteer for the Valley City Area Chamber of Commerce.
Janet received the Community Spirit Award from the Valley City Chamber of Commerce in 1996 and again in 1998 along with the Community Image Award. She served as a member of the Valley City Bridges Task Force, the Sheyenne River Valley Scenic Byway/Backway Task Force, and the Medicine Wheel Park Task Force.
Janet is well known for her photography which has been featured on Valley City calendars, the North Dakota "Horizons" calendar, the cover of "North Dakota Water", and the "Horizons" magazine.
Janet served on the VCSU Alumni Association Board of Directors from 1990-97, the VCSU Foundation Board since 1997, and is a member of V-500 and is an Associate Member of the VCSU Foundation Board of Regents.