Svenningsen-Hesch, Kimberly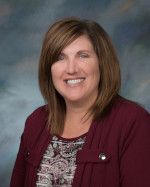 Awarded in 2016
Kim Svenningsen-Hesch is the thirteenth recipient of the Alumni Service Award.
Svenningen-Hesch is a 1991 graduate of VCSU. She received her Bachelor of Education degree in Business Education and Computer Science. She has been a member of the Valley City State University staff for the last 20 years and currently serves as the Assistant Director for Advancement in the Foundation & Alumni Office.
Svenningsen-Hesch has served on both the Jefferson and Washington Elementary schools PTO including serving as President for three years, the Barnes County United Way, VCSU V-500 Board of Directors, Viking Booster Board and Christian Education Committee at Epworth United Methodist Church.
Svenningsen-Hesch received the VCSU Viking Pilot Award in 1989 and was recognized as the VCSU Staff Member of the Quarter in 2013.
In Svenningsen-Hesch's nomination, it was stated that Kim is a hard worker, takes pride in what she does and has a passion for VCSU. She is always willing to take on additional responsibilities, work extra hours, and pitch in to get the job done. Kim has exemplified the concept of service in every way.
When asked to share a special memory of her time at VCSU Kim replied, "I was fortunate to be a Homecoming co-chair in 1989 when the University was celebrating 100 years. It was fun planning extra events and working with the alumni office. It taught me what being a graduate of VCSU and being a Viking was all about!"