Tyrrell, Bill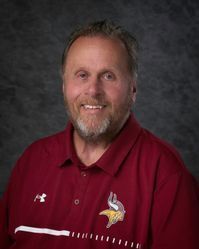 BILL TYRRELL '83 AND DOUG SCHINDELE '87
Bill and Doug are great examples of what it means to "Be a Viking". They both actively participate in supporting VCSU and Viking football. The two came up with an idea to start a new scholarship for Viking Football. They shared their thoughts and ideas with Viking Football and the VCSU Foundation. From there they developed a plan to start the Viking Football Impact Fund. These scholarships are awarded to the top players each year.
This fund would not have happened without their leadership and commitment to VCSU and Viking Football.
Coach Dennis McCulloch said, "I feel very lucky to have these guys be a part of our program and they have truly impacted Viking Football's past, present, and future. They have made a mark that will never be erased."
Bill received his Social Science Education degree from VCSU in 1983 and is owner of Rumors Sports Bar in Grand Forks.
Doug, a 1987 graduate, has a Physical Education and Technology Education degree from VCSU. He farms in the Stephen, Minn. area.