Astrup, Ken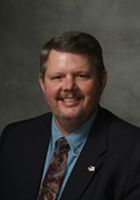 Ken Astrup, a 1973 graduate of Valley City State University, has been selected by the VCSU Alumni Board of Directors to become the 54th recipient of the Distinguished Alumni Award.
Ken currently serves as General Manager for Dakota Plains Cooperative of Valley City, Litchville, and LaMoure. Prior to his current job, he was with North Dakota Farmers Union for over thirty years, where he served as Director of Cooperative Services.
Ken has been active in cooperative and community affairs all his life. He has helped organize co-ops, served as a co-op director, taught co-op principles, and worked on cooperative education projects in Hungary, Macedonia, Moldova, and Ethiopia. He has written manuals on how to organize cooperatives and the responsibilities of cooperative directors.
He currently serves on the boards of: Association of Cooperative Educators; North Dakota Project Safe Send; State Emergency Response Commission; the Jamestown Public Schools and the North Dakota State School Boards Association.
Ken and his wife Linda 72 live in Jamestown, ND, and have three grown children; Eric, Jason and Kimberly.