Baesler, Kirsten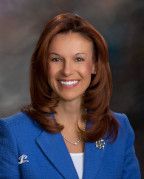 Kirsten Baesler has been selected by the Valley City State University Alumni Board of Directors to become the 60th recipient of the Distinguished Alumni Award.
Baesler, a native of Flasher, ND, holds two Associate degrees from Bismarck State College, her bachelor's degree in Education from Minot State University and her master's degree in Education and Library Information Technology from Valley City State University.
Baesler's life-long passion for education has inspired her entire adult career - she has spent 22 years working for Bismarck Public Schools as a library assistant, technology integration specialist, library media specialist, and assistant principal. Baesler is currently serving as State Superintendent with the North Dakota Department of Public Instruction.
Baesler has served as Southwest Regional Director for the North Dakota Schools Boards Association; as governor-appointed member of the North Dakota Educational Technology Council; and has more than a decade of experience working with North Dakota's state legislators and congressional delegates on public education policy.
When asked to share a special memory of your time at VCSU Baesler replied, "I established lifelong friendships during my time taking summer classes at VCSU from 1999-2001 to earn my library media credential, and when I went on to be part of Valley City State's first online master's degree group in education and information technology. As the first group of educators to go through this visionary program, we developed strong bonds that have lasted to this day. I was attending class while still working full time and parenting my sons full time, sometimes even driving back to Mandan during summer classes to watch their baseball games. There were times I would wonder why I was continuing my education – and then I would remember I was surrounded by people who were facing similar challenges, and we had VCSU staff and faculty who were so committed to assisting us and helping us reach our goals. I'll never forget that, and I am forever grateful. In my current role, I often tell young people, "Luck is where preparation meets opportunity." Thank you, Valley City State University, for preparing me so well! I am very proud to be a Viking!"