Bortke, Al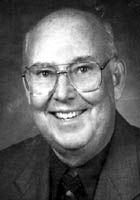 Al Bortke, a 1960 graduate of Valley City State University, has been selected by the VCSU Alumni Board of Directors to become the 50th recipient of the association's most prestigious award, the Distinguished Alumni Award.
Al is currently the Athletic Director at the University of Mary in Bismarck, ND. Prior to his present position, Al coached and taught at Turtle Lake, St. Mary's High School in Bismarck, St. James High School in Grand Forks, and Pipestone High School in Pipestone, MN. Al began his career at the University of Mary in 1973.
As a basketball coach, Al won 335 games at the University of Mary placing him second in the history of the most winning coaches in North Dakota college & university basketball. As the school's athletic director of 27 years, he has been responsible for the addition of 16 sports and the development of major athletic facilities.
Al has been honored with many awards including the University of Mary Regents Award, the University of Mary Outstanding Administrative Staff Award, the District 12 Administrator of the Year, the Great Plains Regional Athletic Administrator of the Year (twice), the NDCAC Athletic Director of the Year, and the College Coach of the Year. In 1991, Al was inducted into the University of Mary Hall of Fame, and in 1993 was inducted into the North Dakota Babe Ruth Baseball Hall of Fame. In 1998, he was the recipient of the Daryl Bjelde Memorial Award, which is the highest honor bestowed by the Special Olympics of North Dakota. Most recently, Al was selected as the NAIA-ADA National Athletic Director of the Year.