Boutiette, Vickie Lemley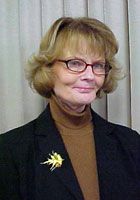 Vickie (Lemley) Boutiette, a 1972 graduate of Valley City State University, is the 53rd recipient of the Distinguished Alumni Award.
Vickie received her bachelor's degree from VCSU in 1972 and a Master of Science in reading in 1997. She is currently the Reading Recovery Trainer at Westside Elementary School in West Fargo. Prior to that, she taught third grade at Westside and grades 4-6 at Pillsbury, ND.
Vickie has received many honors and awards. They include: West Fargo Education Association Golden Apple Award, West Fargo Teacher of the Year, North Dakota Education Association Courage Award, Milken Family Foundation National Educator Award, North Dakota Teacher of the Year, VCSU Certificate of Merit, Christa McAuliffe Fellowship Award and the Freida J. Riley Teacher Award. The Riley Award is a national award given to a teacher who overcomes adversity to make a difference in the lives of students. Vickie was diagnosed with cancer in 1990 and underwent extensive treatment to her tongue and most of her jaw, making it difficult to talk. At one point, her doctor told her she would never again teach.
Vickie and her husband, Stephen, have two children, Mike and Jill, and one grandson, Jacob.