Ellerman, Raymond F.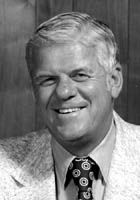 A native of Milnor, North Dakota, Raymond Ellerman received his BA degree from Valley City State Teachers College in 1940 and served as senior class president that year. Mr. Ellerman received his M.S. degree and doctorate in education from the University of Southern California in 1951 and 1955, respectively. After the war, Ellerman, a veteran, held both teaching and administrative positions in Illinois and southern California. In 1957 he began a 24-year career at San Bernardino Community College, serving the last twelve and one half years as the college's Chief Executive Officer, Chancellor. During the late 1960's the San Bernardino College had an enrollment of over 15,000. It was at that time that a second campus, Crafton Hills College, was opened. Thus, Mr. Ellerman became Chief Executive Officer and Chancellor of a two-college district. Since Dr. Ellerman's retirement in 1981, he has served college districts in a consultant capacity. He also served as interim president of Southwestern College, just south of San Diego, California.
Dr. Ellerman and his wife, Vicky, have one daughter, Nancy. The Ellermans reside near Las Vegas, Nevada.