Grooters, Larry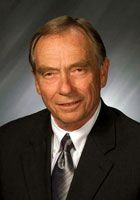 Dr. Larry Grooters, a 1957 graduate of Valley City State University, is the 51st recipient of the Distinguished Alumni Award.
Dr. Grooters was the Chair of the Division of Education, Psychology & Technology at Valley City State University before his retirement in 2005. Prior to joining the faculty at VCSU in 1963, Dr. Grooters taught in Dickinson and Casselton public schools.
His professional memberships include North Dakota Education Association, National Education Association, Phi Delta Kappa, North Dakota Association of Teacher Education, American Association of Colleges for Teacher Education, and the Association for Supervision and Curriculum Development. Dr. Grooters has served on the North Dakota Standards and Practices Program Approval Advisory Committee, the North Dakota Program Approval Advisory Board, NCATE Visiting Team Members, the Greater Barnes County Consortium, and the AACTE/NCATE Annual Meetings.
Dr. Grooters contributed in the writing and consulted for the Title III ($1.7 funded) grant in 1994-95; the FIPSE ($270,000) grant (1993); and the Bush ($180,000) grant. He was a presenter at the Society for Information Technology and Teacher Education International Conference in 1996; a presented at the American Association of Colleges for Teacher Education/NCATE Annual Meeting in 1999; NCATE 2000 Continuing Accreditation and Beyond Workshop in 2001; in addition to many others.
In May 2002, under Dr. Grooters' leadership, the Valley City State University Teacher Education Program received the Distinguished Achievement Award from the International Society for Technology in Education (ISTE). ISTE is a leading organization in the use of technology in education. The Distinguished Achievement Award recognizes institutions that have exhibited exemplary models of integration of the National Education Technology Standards for Teachers (NETS*T) into their teacher education programs. The VCSU Teacher Education Program is one of the first seven in the United States to achieve this designation and award. The award was presented at the National Education Computing Conference.
Dr. Grooters and his wife, Hazel (Ussatis) '72, have four grown children: Kim Lipetzky '79, Greg '82, Karla Callies '86, and Kristi Stuber '00. The Grooters have five grandchildren.