Hanna, Glenn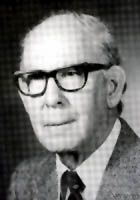 Mr. Hanna taught and coached at Moorhead, Bismarck, and Thief River Falls high schools. His team won Minnesota State Championships back-to-back, a feat not equaled since then.
In addition to his teaching responsibilities at Valley City State College, Mr. Hanna was the assistant football coach from 1948-59, during which time the Vikings were Conference Champions five times. Mr. Hanna was named Professor Emeritus in 1974. He is an honorary advisor of the Valley City State College Industrial Education Association and a member of Phi Delta Kappa.
Hanna was one of Clay County's representatives on the Honor Roll Champions for the Minnesota Centennial Celebration.
Mr. and Mrs. Hanna are parents of five children, all of whom have attended Valley City State College