Heinrich, Bonnie Hanson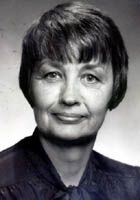 Bonnie Heinrich came to VCSU from Carrington, ND where she received her elementary and high school education. While attending VCSU, she was an honor student, named to Who's Who, a Viking Pilot, participated in choir and annual staff, and was a member of the Philomathian Sorority. She received a secondary education degree with majors in English and Commerce in 1959. After graduation, Bonnie taught English in several North Dakota communities, retiring from teaching in 1979 after 15 years at Bismarck High School.
In 1977, Bonnie became only the sixth woman in history to be elected to the ND senate. Bonnie was also the first woman to chair the important Senate Education Committee for three sessions. She serves as chair of the Senate Democratic caucus and as one the prestigious 15 member Legislative Council, which oversees interim legislative action. During the 1979 legislative session she was named one the three outstanding Senate Democrats in the KX poll of legislators and legislative workers.
During the 1977 and 1979 sessions, she served on these legislative committees: Industry, Business, and Labor; Social Welfare and Veteran's Affairs, State and Federal Government; and the Committee on the Bank of North Dakota. Bonnie was chosen in 1991 as the state Senate's first female residing officer during a legislative session.
In 1974, Bonnie was named the Young Educator of the Year by the North Dakota Jaycees. She is also as former president of the ND Education Association.