Hendrickson, E. Vernon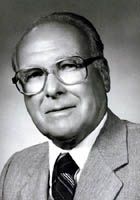 Upon graduation from VCSC in 1937, Mr. Hendrickson taught school in Adrian and Marion, ND. He then enlisted in the U.S. Navy and served as a weather forecaster stationed near Pearl Harbor. In 1945 he joined the National Weather Service at Fargo and in 1965 was named Meteorologist in Charge of the Bureau at Hector Airport. After retiring from the National Weather Service, MR. Hendrickson served as Meteorologist and Weatherman for KTHI Television in Fargo, ND.
Mr. Hendrickson was awarded Outstanding Civilian Service Medal from the Department of the Army and has received many citations for the U.S. Department of Commerce.