Holm, Jeannette Schaack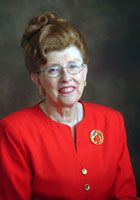 Jeanette (Schaack) Holm, a 1960 graduate of Valley City State University, is the 52nd recipient of the Distinguished Alumni Award.
Jeanette received her bachelor's degree from VCSU in 1960 and earned her master's degree in 1987. She served as the Resource Room Learning Disabilities/ Emotional Disorders instructor at the ND Youth Correctional Center in Mandan from 1983 to 2003. Jeanette worked with juvenile offenders for 36 years. She was instrumental in developing new and innovative programs to serve this population.
In addition to creating model programs in North Dakota, she has been active with the Correctional Education Association throughout her career. She has served the organization in many capacities, from chapter president to regional director, and is currently the Chairperson of the Friends of the CEA Special Interest Group.
Jeanette has been a member of the Correctional Education Association since 1979. She was awarded the Lifetime Achievement Award by the Correctional Education Association in 2004. This award honors an individual's longevity within the profession and their contributions towards leadership, vision, and professional excellence. Her extensive contributions to the field of correctional education were honored at the 59th International Conference in Baltimore, Md., on July 6.
In addition, Jeanette has been inducted into the ND Association of Dance and Drill Hall of Fame, named Regional and National Teacher of the Year by the National Correctional Education Association, has received the Heritage Award from the State of North Dakota, and received the Key Woman Award from the North Dakota Jaycees.
Jeanette was named the Outstanding Catechist from the Diocese of Bismarck in 1999 and was named Teacher of the Year from the Bismarck-Mandan Council of Exceptional Children in 2000.
Jeanette and her husband, Logan, have four children: William, Andre', Heather and Holly, and four grandchildren.