Jensen, Dee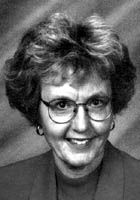 Delores Dee Jensen, a 1966 graduate of Valley City State University, has been selected by the VCSU Alumni Board of Directors to become the 49th recipient of the association's most prestigious award, the Distinguished Alumni Award.
Dee is currently an instructor and head women's track coach at North Dakota State College of Science in Wahpeton, ND. Prior to joining the staff and NDSCS, she taught and coached at Hatton High School and Midway of Inkster High School. She earned her masters degree at Northern Arizona University in 1973.
Dee has coached the women's track program at NDSCS since it inception in 1975. She has coached 8 NJCAA National Champions, 40 NJCAA All-American, 66 NJCAA National Place winners, 2 NJCAA National Record Holders, and numerous NJCAA Regional champions. Dee has been named NJCAA Region XIII Coach of the Year nine times.
Dee was named the Joseph Robichaux Award winner for outstanding contributions to women's track and filed at the USA Track and Field annual convention. She was elected to the International Amateur Athletic Federation Women's Committee at its 42nd IAAF Congress in Seville, Spain. Dee was elected to a four-year term on the first ballot and served as chef de Mission for the World Championships in Annecy, France, in 1998 and again in Seville, Spain, in 1999. She is also vice president of that organization. The IAAF is the governing body of track and field for the world. Dee was also elected the USA candidate for the Women's Committee by USA Track & Field. Dee served as an Assistant Manager for the World Championships in Athens, Greece, in 1997. A chief judge of the high jump at the Olympic Games in Atlanta, GA, in 1996, Dee passed the IAAF Level II Area Technical Officials Certification for the Northern American and the Caribbean.
Dee and her husband, Owen Jensen, also VCSU graduate, reside in Wahpeton, ND.