King, Robert D.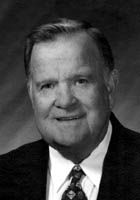 Robert D. King, a 1955 graduate of Valley City State University, is the 48th recipient of the Distinguished Alumnus Award. King retired in June of 99 from the North Dakota High School Activities Association where he has served as Executive Secretary since 1988. He taught and coached in Pelican Rapids, MN; Milnor, New Rockford, and Valley City before joining the NDHSAA in 1979. During Kings tenure as NDHSAAs Executive Secretary, he and his staff supervised 25 extra-curricular activities win an annual budget of over a million dollars.
In 1993, King was honored with the NIAAA Distinguished Service Award. He has also been the recipient of the National Federation Officials' Association Distinguished Service Award, the National High School Coaches' Association Award of Merit, The National Federation Coaches' Association Distinguished Service award, and has been named to the ND Officials' Hall of Fame and the ND Coaches' Hall of Fame.
King and his wife, Nancy, reside in Valley City where both are active in community activities. They have two grown children. Their son, Darin, and his wife Deb, live in Grand Forks with their two children: Sam and McKenna. Darin is the Director of Technology for the Grand Forks Public Schools. Daughter, Darcy Schauer, and her husband, Duane, live in Williston where both teach at Williston High School. They have two children: Katie and Jake.