Langemo, Dr. Mark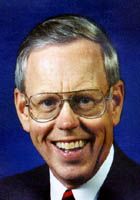 Dr. Mark Langemo is the 46th recipient of the Distinguished Alumni Award in Valley City State University's 100-year history. Dr Mark Langemo is the son of the late Edwin and Lila Langemo of nearby Fingal, North Dakota. A 1963 graduate of Valley City State, he taught and coached at Hope High School in North Dakota for two years. After earning his Maters degree at the University of North Dakota in 1966, he was an instructor at Central Missouri State University for two years and an Associate Professor at the University of Wisconsin at Eau Claire for three years. He earned his Doctor of Education degree at UND in 1972 and was recruited to the UND faculty in the fall of 1972.
Dr. Langemo is the Coordinator of the Information Management major at the College of Business and Public Administration at UND. During his 30 years of university teaching (24 of them at UND), he has become an international authority in the field of Records and Information Management. He earned his CRM (Certified Records Manager) designation in 1979. From mid-1989 to 1990- while on a leave of absence from UND he was the Executive President of commercial records center and management company in the Twin Cities.
Dr. Langemo has also maintained an active involvement in conducting records and information management seminars, publishing, speaking, and consulting. His over 500 seminars for executives, managers, and administrators has spanned 45 of the continental United States, Alaska, Hawaii, Australia, Iceland, New Zealand, and Europe. His management seminar involvement includes work for the U.S. and Canadian governments, state provincial governments, major corporations, power companies, banks, law firms, health care organization, small businesses, and the John F. Kennedy Space Center in Florida. He has authored or coauthored over 50 journal and magazine articles and books.
Dr. Langemo has been UND's Teacher of the Year, and he has received UND's highest alumni award excellence in undergraduate instruction. In Grand Forks, Dr. Langemo is a member of the Board of Directors of Community National Bank and a member of Sharon Lutheran Church. In 1993, Dr. Langemo received the Emmett Leahy Award from the Institute of Certified Records Managers. The Leachy Award is the highest award internationally in the field of records and information management. Dr. Langemo and his wife, Diane, have three sons- Steve, Brent and Darrin.