Lum, D. Eldon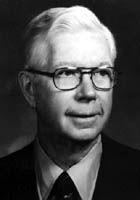 D. Eldon Lum, originally from Carrington, North Dakota, attended Valley City State Teachers College for two years before moving to Wahpeton, North Dakota, to become publisher of the Farmers-Globe in 1927, where he worked most of his career. While attending college at Valley City, Mr. Lum worked part time at the Times-Record, a paper his father, E.D. Lum, owned and published at that time. Mr. Lum's career in journalism and publishing included interest in several upper-Midwest newspapers including the Moorhead Daily News, Mayville Tribune, Hankinson News, Lidgerwood Monitor, Redfield Press, (South Dakota), the Clark County Courier (South Dakota), and the Wheaton Gazette (Minnesota).
Mr. Lum and his brother, Donald, who was a partner in the publishing business, also owned interest in three radio stations, one each in Stillwater, Minnesota; Red Wing, Minnesota; and Hayward, Wisconsin. Mr. Lum served in the Air Force during World War II, has been very active in the Masons, was Past District Governor of Rotary and has been very active in community affairs in Wahpeton, North Dakota. Mr. Lum is the recipient of many publishing awards including the Elmer G. Voight Award for Service in the Field of Graphic Arts Education. Other awards include the Honorary State Farmer of North Dakota FFA and the Paul Harris Fellowship from Rotary International. While at Valley City State College, Mr. Lum was president of the Student Council editor of the newspaper and on the Blizzard staff.
Lum and his wife, the former Bertha Best, a two-year teaching graduate of VCSC, have two daughters and four grandchildren. The Lums now make their home in Sand Diego, California.