McNea, Mel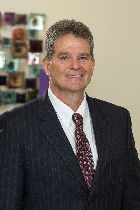 Mel McNea has been selected by the Valley City State University Alumni Board of Directors to become the 61st recipient of the Distinguished Alumni Award.
McNea earned his Bachelor's degree with a major in Biology Education in 1978 from Valley City State University. In 1980, he received his American Society of Radiologic Technologists certificate from St. Luke's School of Radiologic Technology and later earned a Master's degree in Healthcare Administration from the University of Phoenix in 2009.
While McNea spent a few short years teaching, he has spent over 40 years dedicated to creating access to safe and quality healthcare in rural America. McNea joined Great Plains Health in 1987 as the director of diagnostic imaging, leading that department through tremendous growth in volume and changes in technology and process improvement. He was selected for the prestigious Caring Kind Award from the Nebraska Hospital Association in 1998. In 2004, he was promoted to vice president of operations. McNea is currently chief executive officer with Great Plains Health in North Platte, Neb., a position he has held since 2014.
McNea has led the Great Plains Health system through a period of unprecedented growth and expansion. His leadership has produced many successful projects, including the addition of a heart and vascular program, the $100 million patient tower construction project, the development of the Great Plains Physician Network, a spine surgery center and the first mobile CT program in western Nebraska.
In 2018, McNea was named the Nebraska Hospital Association Health System CEO of the Year — Excellence of Service Award.
When asked what does being a graduate of VCSU mean to you McNea responded, "The educators and advisors at Valley City State University provided me not only the knowledge to be a successful leader, but provided me the courage to do great things. I grew up in the small rural community of Bottineau, North Dakota, and the transition to a large community and academic setting was difficult but successful because the faculty treated me as an individual not a number. There were many individuals who influenced my educational pursuit but a few names stand out. Archie Moore, Dr. Lade, Dr. Rankin, and Dr. Dafoe not only shared their academic wisdom but were great role models. When I share with Nebraskans where I received my college education, I feel a sense of pride and gratitude for what the institution and staff did to help guide my development as a leader."