Sommerfeld, Myron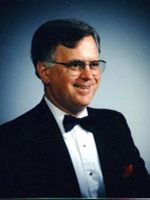 Myron Sommerfeld was born and raised on a farm near Gackle, he was more interested in music than farming. His dad, Henry Sommerfeld started a band in 1929, composed entirely of family members. Young Sommerfeld began playing guitar, then at age 14 switched to drums. He played with his father for quite awhile, and in 1956 launched his own rock 'n roll band, primarily composed of family members.
His sister played piano and when she became ill, a young lady named Jenneice filled in for her. Eventually, love bloomed and the pianist became Mrs. Myron Sommerfeld. The family tradition continued with the addition of their 13-year-old daughter Bonnie, who played the flute and saxophone.
In 1958, Myron formed the Silver Star Orchestra, also known as the Bon-bon Brass, after Bonnie. Eventually, the name was changed to its present day Myron Sommerfeld and His Music. This North Dakota maestro's many accomplishments include having his composition entitled, Stepping Out chosen as the theme song for National Ballroom Dance Week in 1992, and having his orchestra voted as "The Outstanding Band" by the National Ballroom & Entertainment Association.
Sommerfeld graduated from Valley City State College in 1962 and later earned a Masters Degree in Music Education from the University of North Dakota.
Myron retired as music director for 1st-12th grade at North Central School of Barnes after teaching there for 25 years.
Myron and his band have traveled a lot over the years from Canada to all over the Midwest, including North Dakota, South Dakota, Minnesota, Wisconsin, Nebraska, and Montana. In addition they have been invited to play two different years on a cruise ship with went around South America. In 1997 they started playing resorts in Arizona and now spend six months out of the year there with the remaining six months in North Dakota.
Myron and his wife Jenneice live in Valley City and Mesa, AZ and have one grown daughter, Bonnie.