Tharaldson, Gary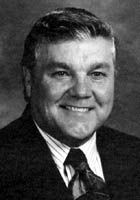 Gary Tharaldson, a 1967 graduate of Valley City State University, is the 47th recipient of the "Distinguished Alumni Award"
Raised in Dazey, ND, Gary worked as a farmhand while in high school. After graduating from VCSU, he taught bookkeeping and gym in a 45-student high school and moonlighted selling life insurance before launching a lodging dynasty, a series of no-frill hotels and motels through the Midwest. He now oversees a Fargo based empire of at least 228 limited-service hotels under 20 different banners.
Tharaldson is one of the few hotel owners with his own construction company. His business' size allows him to buy items wholesale, and he arranges for others to use his dealers with him getting a percentage. The buying network started in May 1997 and Tharaldson expects it will blossom into a 175 million project.
Forbes magazine listed Gary, the only North Dakotan on the list, among the 400 richest people in the U.S. The magazine, in its October 13 issue, said Tharaldson is worth $485 million.
Gary was inducted in the N.S.A.S.A Hall of Fame in 1995 for his abilities, his sponsorship of softball teams, and his contribution to softball and other sports.
Gary has been married twice and his six children range in age from 8 months to 29 years.