Bauer, Donald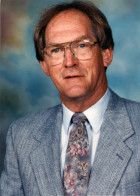 Awarded in 2013
Don Bauer is the tenth recipient of the Alumni Service Award.
Don is a 1963 graduate of VCSU. He received a Bachelor of Science Degree majoring in Chemistry Education. Don completed his Masters in Education degree in 1973 from the University of Oklahoma. Don's professional career includes teaching and coaching ten years for Ashley High School, six years at Valley City Public Schools as a teacher and coach, fifteen years as Principal/Athletic Director at Valley City Public Schools and nine years as Athletic Director for Valley City State University.
During Don's time at VCSU he was hired and paid as a part-time athletic director with an athletic complex in need of improvements. "Don Bauer brought with him a passion for VCSU and a strong work ethic when he assumed the Athletic Director's job at VCSU. It was common for him to work 80 or more hours each week. He would be there early in the morning and late into the evening. Saturday was just another day for Don Bauer. He gave it his all. His commitment to Valley City State University and the Vikings is without question. The improvements to the facilities during his tenure were many and are still in place today." Larry Robinson, Executive Director of University Advancement.
Don was recognized with the Governor's Award of Excellence in Public Service in 2000 and was inducted into the VCSU Viking Hall of Fame in 2007.
When Don was asked "What does being a graduate of VCSU mean to you?" he responded "PRIDE. The reputation of VCSU is held in high regard across the country."
Don has many special memories of his time at VCSU; one he will always cherish is the time he was able to present his daughter, Melissa, with her undergraduate diploma.