Jacobson, Lillian Langemo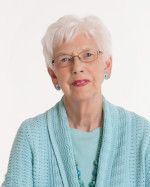 Awarded in 2007
Lillian Jacobson is a 1940 graduate of VCSU. She has a B.S. Degree with a major in English Education and minors in Library Science and Biology Education. Her professional career included stints as high school librarian in Valley City and Bismarck, North Dakota, and service on the staff at Pacific Lutheran University; Northern State University, (Illinois); Valley City College High School; and as Director of the Library at Valley City State University. Lillian served the College High School until the school closed in 1965. From 1965 to 1980 she was Director of Allen Memorial Library at VCSU.
During her years as a student at VCSU she served as Homecoming Co-Chairperson, Student Body president, was recognized as a Viking Pilot, and an Honor Student. She noted that when she was a student, life was very much different. Very few students had cars. They considered themselves lucky if they could double date with someone who had a car. There was no Student Center and the cafeteria was located in the lower level of Old Main, i.e., McFarland Hall. According to Lillian, "In spite of everything, we made lasting friendships, and had a good time just as students do today." In those days VCSU was called Valley City State Teachers College.
Lillian has served as president of the VCSU Alumni Association, 1959-60; a member of the Centennial Planning Committee, 1989-90; and Chairperson of a 14 member committee of retired faculty and staff members who compiled information for a history of the University's first 100 years. The result was a published book titled Cornerstones, of which Dr. Welsh, a member of the committee, was the author.
During her tenure at VCSU, she was also the president of the VCSU Faculty Association. Lillian has donated countless hours of volunteer time to the Alumni Association, updating the data base, and searching for "lost alumni". She has also been the recipient of the Alumni Association's Certificate of Merit award.
According to Lillian, "Much recognition has come to the university through the alumni who were introduced to the profession of librarianship with the Library Science Minor. They have gone out to serve in schools, public libraries, colleges, and state agencies. By building on that same minor with graduate study, I was prepared to enjoy a 40 year career in librarianship which culminated with my return to my alma mater, Valley City State University."