Moser, Ron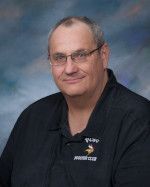 Awarded in 2011
Ron is a 1981 graduate of VCSU. He received a Bachelor of Science Degree majoring in Business Administration. Ron's professional career includes over 14 years with Farmers Union Insurance. He is currently working for the Southeast Transit in Valley City. Ron's commitment to VCSU has been without question. He has been a member of the VCSU Booster Board including serving as President for the last nine years.
Ron has a passion for Viking Athletics. When there is a need for dollars to be raised for athletic scholarships or any athletic cause you can be assured that Ron is either leading the charge or a part of the committee to get it done. He has been the master mind for many different fund raising ideas of the VCSU Booster Board, which has generated considerable dollars for scholarships. Jack Denholm, VCSU Athletic Director said "Ron's passion, dedication, and positive attitude towards Viking Athletics are second to none."
Ron has many special memories of the two years he lived on the Tau Sig floor of Robertson Hall. He stated that many of the events taking place then are sworn to secrecy! When Ron was asked What does being a graduate of VCSU mean to you? he said that his years at VCSU were the best times of his life. He met many lifelong friends and VCSU showed him that Valley City is a great place to live and VCSU is a great university.