Stenson, Charlene Stromsodt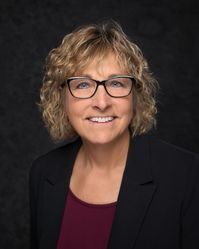 Charlene first came to VCSU as a freshman in 1979 and was recruited to the campus to play basketball. She also participated in softball and track & field and graduated from VCSU in 1983 with a teaching degree in physical education. Following a career of teaching and coaching at various schools and levels in North Dakota as well as in Limon, Colorado, Charlene returned to begin her career at VCSU as an admissions counselor in 1999. Charlene retired this summer, as VCSU's Director of Enrollment Services, a position to which she was appointed in 2008. Under Charlene's leadership the University has seen a jump in enrollment growth.
During her time at VCSU, Charlene has served on the Viking Booster Board, was named Fan of the year in 2010, and received the Employee of the Quarter award in Spring of 2012.
Charlene was inducted into the Viking Hall of Fame in 1995 for her role on the VCSU Women's basketball team from 1979-1983.
When Charlene was asked What does being a graduate of VCSU mean to you? she replied, "I am so proud to be a VCSU graduate. The university gave me the opportunity to build my confidence and develop my leadership skills. When I think of VCSU, I think of family because that is what it was for me as a student! Support, encouragement, going the extra mile, dedicated to being successful encompasses the VCSU family."
Charlene and her husband, Dean, reside on a farm near Sanborn. The Stensons love the outdoors and engage in various outdoor activities throughout the year such as hunting, fishing, gardening, and snowmobiling.