Deutsch, Joe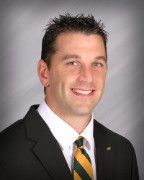 Awarded in 2014
Joe graduated from Valley City State University in 1999 with a Bachelor of Science Degree in Phyicial Education. He earned both his master's and doctorate from North Dakota State University.
Joe taught Physical Education for six years in Fort Yates, Bismarck, and Fargo before taking a job in the Department of Health, Nutrition and Exercise Sciences at North Dakota State University in 2007. Joe current serves as an Assistant Professor in that Department.
For the last eight years Joe has been a member of the Fargo Park Board and is currently serving as the President of the board. He is also very involved with the North Dakota Association of Health, Physical Educfation, Recreation and Dance (NDAHPERD).
In Joe's nomination, Dr. Sharon McCarriar noted that he has been returning to campus each December to speak to her methods classes since 2007. McCarriar said, "Joe has served as a high positive role model for our physical education majors as a former graduate with the attainment of the Ph.D. His enthusiasm for teaching physical educaiton is supported by his continued research and academic studies in education."
When asked "What does being a graduate of VCSU mean to you?" he responded "I am truly honored to be a graduate of VCSU. Attending a school the size of VCSU afforded me the opportunity to be heavily involved in several aspects of college life. While intercollegiate sports drew me to VCSU (wrestling), I soon grew to enjoy fraternity life (EBC) as well as Student Senate. Professors and staff at VCSU didn't just know your name, they knew you well. This is something that I appreciated immensely and strive to accomplish as a professor myself every day."
Joe's special memory of his time at VCSU is sitting in the first day of a class taught by Dave Bass. Joe said, "As Dave went over the syllabus, he got to the part about office hours and contact information. He basically told us that if we had any questions at any point in our studying, that we could call him day or night on either his office phone or home phone. His only stipulation was when he answered the phone, he asked that we didn't apologize for calling him so late. That sent the message right there, he truly cares about his students."