Larson, Brady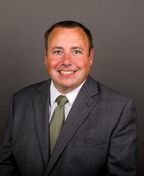 BRADY LARSON '04
Brady received his Business Administration
degree from VCSU in 2004 with concentrations in accounting and finance. He currently is the Assistant Legislative Budget Analyst and Auditor for the North Dakota Legislative Council in Bismarck. A position he has held since 2013. Brady is also a Certified Public Accountant, licensed in North Dakota.
While attending VCSU Brady served as the Student Senate President, was involved in student activities, and interned in the VCSU Business Office.
Brady is highly respected by North Dakota legislators on both sides of the isle. He is professional and articulate in his responsibilities with the ND Legislative Council.  Larry Robinson, Capital Campaign Director at VCSU said, "During my tenure in the ND Senate, I had the unique opportunity to witness Brady grow in his position and become a highly respected member of the Legislative Council Staff."
Brady stated that VCSU allowed him to be prepared for his career by receiving a quality education located on a learner-centered campus. The faculty and staff of VCSU consistently have gone above and beyond to ensure student success through innovative teaching methods and access to real-world experiences.