Lee, Nicholas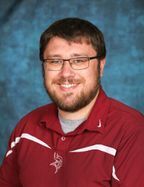 Nick has earned both his Bachelor's and Master's degree from VCSU. This fall Nick became the Principal at St. Catherine Elementary School in Valley City. He is also the Director for the Community School of the Arts and Arts Administrator of the Bridges Art Council.
Prior to taking the principal position, Nick taught 7-12 science at North Sargent Public Schools and was the head Speech Coach and Student Congress Coach for Valley City Public Schools. He has been named 2017 and 2021 State Class A Speech Coach of the Year while coaching the speech team to four state championships and coaching 27 state champions. Nick was recognized with the Distinguished Service Award by the National Speech and Debate Association and achieved one of the highest honors by the National Speech and Debate Association by receiving the Diamond Coach Award.
While attending VCSU Nick was the Student Senate President and a member of the EBC fraternity.
When asking Nick what graduating from VCSU means to him he said, "VCSU provided me with a skill set necessary to be successful and helped shape me into the person I am. I graduated with my undergrad and my oldest was in the audience. When I got my master's all my kids were there. VCSU allowed me to be successful and raise my family. That is so special."
Nick wasn't able to narrow down to just one special memory of his time at VCSU, he had many and wasn't sure how appropriate they might be but settled on being asked to give the Commencement Address on behalf of the students at the December 2021 ceremony.
Nick and his wife, Kaitlen, live in Valley City with their three children (Micaiah, Eliam, and Ezrah).