Neuharth, Jeremy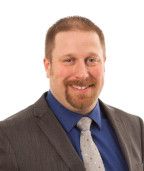 Awarded in 2014
Jeremy is a 2001 graduate in Computer Information Systems from Valley City State University. He holds certifications in Project Management Professional (PMP), Certified Scrum Professional (CSP), Professional Scrum Master II (PSM), and PMI Agile Certified Practitioner (PMI-ACP).
Jeremy has worked as a Project Manager & Software Engineering Supervisor with Bell State Bank & Trust of Fargo for six years and prior to that served as Director of Operations at Ecliptic Technologies, Inc.
During Jeremy's time at Bell State Bank & Trust ,he co-founded a software development company named Sycorr, an organization fixated on creating exceptional software for the financial services industry.
Jeremy is very involved in many IT associations in the state and has been a member of the Computer Systems and Software Engineering (CSSE) advisory board at VCSU.
When asked "What does being a graduate of VCSU mean to you?" he responded ,"My local North Dakota college education served as a great foundation for my professional career. The unique combination of business and technical classes within the Computer Information Systems degree directly applied to the skills I needed in my role as a project manager. The environment of smaller class sizes and caring educators, along with the forward-thinking enhanced learning experience of using laptops in the classroom, all added to the valuable skills I sharpened during my time at VCSU."
Jeremy has many special memories about VCSU, most revolve around the people who worked and studied there. "The campus community is composed of many great professionals invested in the students who attend there, and the students are invested in each other's success. That said, one of the most enjoyable times was working on my capstone project. Being exposed to a real-life business problem that challenged our class to apply the knowledge instilled in us over the years is a key memory for me. To this day, one of the most satisfying aspects of my professional career is discovering creative solutions to difficult business problems."