Niewind, Bryan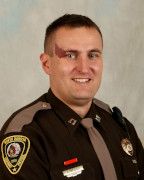 Awarded 2017
Bryan J. Niewind received a Bachelor of Science in Human Services from Valley City State University in 1999 and continued his education by graduating from The Traffic Institute, Northwestern University School of Police Staff and Command in 2008 and from the FBI National Academy in 2012.
Niewind is employed as a captain with the North Dakota Highway Patrol and is the regional commander in the Southeast Region.
Awards and honors received by Niewind include the Distinguished Service Medal Award (2009), the Colonel's Award for Excellence (2014), North Dakota Peace Officers Association Life Saving Award and Outstanding Efforts in Public Safety Award. He is also a member of the 2012 Viking Hall of Fame.
During his January 3, 2017, State of the State Address, Governor Doug Burgum recognized three citizens for their outstanding commitment to the safety and security of our state. Governor Burgum stated, "Captain Niewind currently serves as our Highway Patrol's Emergency Response Team Commander. In this role he's been working tirelessly to reach a peaceful resolution to the protests, while at the same time ensuring the safety of all involved."
When asked what does being a graduate of VCSU mean to you, he replied, "Pride, Loyalty and Commitment:
Pride - I have a sense of pride and accomplishment for what I achieved while at VCSU, but I also know the professors, coaches and staff at VCSU always had the same pride and respect for every person on campus. VCSU staff took, and continue to take joy in the successes of VCSU students, graduates and alumni.
Loyalty - It is spread in messages like "Viking Pride" and "Nobody Rides This Ship, We All Row." It is observed through the numerous families that have multi-generations of family members who have attended VCSU. And you see it with the alumni and staff who give back over and over again, so others can have the same positive experience we had. Once a Viking, always a Viking!
Commitment - Attending VCSU reinforced the value of commitment. Whether it was commitment to my education or to my team/teammates, each required something from me each and every day. It would have been easy to give one up or to quit altogether, but staying determined and finishing what I started provided reinforcement to the value of commitment. In addition, because of all the support on campus, I knew VCSU's commitment to me and VCSU remains committed to the success of each and every student and its graduates."
Niewind and his wife Emmy (Dunwoody) '06 live in West Fargo with their two children. He also has a daughter who lives in Detroit Lakes, Minn.